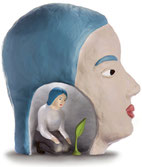 Iemand schreef me: "Zag vandaag deze quote en moest aan je denken":
Commencement speakers are always telling young people to follow their passions, be true to yourself.
This is a vision of life that begins with self and ends with self.
But people on the road to inner light do not find their vocations by asking, what do I want from life?
They ask, what is life asking of me?
How can I match my intrinsic talent with one of the world's deep needs?
- David Brooks
Ik heb erop gegoogled en vond dit artikel uit de New York Times.